BHTA Orchard & Conservatory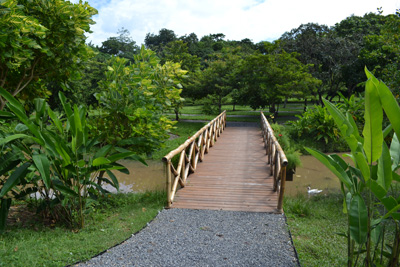 Explore our orchards featuring an exciting mix of different species of tropical fruit trees.  From the most exotic Noni, Carombolla (Star Fruit) Mango, and Avocado to the classic Limes, Oranges and Pink Grapefruits.  Our 400 mature Cashew Nut trees have just been expanded with our new orchard of 900 seedlings. (hopefully starting the commercialization of cashew production on the island.) While strolling through the orchards admire our exotic tropical flowers strategically arranged throughout the property.  For the more adventuresome there is an extended walk to view our mini-orchards of Pineapple, Coffee, Cacao, several species of Banana such as Plantain and Roatan's favorite Apple Bananas.
While at the orchard visit the Caribbean's only, Botanical Conservatory.  This quiet space was created for us and our visitors alike to admire and enjoy our extensive collection of exotic tropical flowers, trees and plants from around the world.  The Conservatory, "a place to collect, display and propagate unique plant
species" features our Orchid Wall, Mahogany trees, Ornamental Pineapples, Red, and the rarer, White Chenille, numerous palm species and tropical flowers.  The 12′ water fall and stream help create the exotic tropical jungle atmosphere you won't forget.
Arboretum guides and our landscaping gardeners will be available to provide their expertise and insight.  Come rain or shine and be inspired by Roatan's Tropical Eden.
Private tours are available for groups booked at least 24 hrs in advance. Tours are not available for walk-ins and the property is no open on a day to day basis for visitors.
Local, custom tours and group discounts are available, contact us to find out more.
Blue Harbor is only open for local tours each week on Friday, tour bookings need to be made at least 24 hrs in advance.
LOCAL SPECIAL: Blue Harbor Tropical Arboretum Local Tour
$25 per person
4 person minimum
Available Friday

Includes
*Guided English speaking Blue Harbor Tropical Arboretum Tour and Hike.
Transport available at an additional cost.
LOCAL SPECIAL: Blue Harbor Tropical Arboretum, Sloths, and Roatan Brewery Excursion
$55 per person
4 person minimum
Available Friday and Saturday
Includes – Transport from cruiseship port or hotel, island highlights tours, local shopping, Blue Harbor Tropical Arboretum, visit Animal Preserver, visit Roatan Island Brewing Company.