About the Hydroponic Farm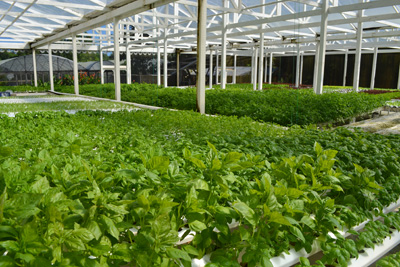 Hydroponic farming means growing plants by placing the roots in liquid nutrients rather than in soil, which is exactly what we've been doing at Blue Harbor Tropical Arboretum. Our hydroponic farm houses over 70,000 heads of lettuce plus a variety of herbs. We work with many local restaurants and hotels to provide them with fresh, locally and sustainably grown lettuce and herbs. You may have enjoyed some of our produce at your own hotel!
Visit the Blue Harbor Tropical Arboretum to learn how hydroponic farming is leading the way in water conservation and sustainable farming practices. We believe that hydroponic farming is the future for safer, fresher, longer-lasting produce in your kitchen.
We harvest every Monday, Wednesday, and Friday at 5:30am. We are happy to show visitors how we provide Roatan's most popular lettuce and herbs to our many hotel, restaurant, and grocery store customers.
Contact us for a complete list of products for sale from our hydroponic farm.
About the Cashew Orchard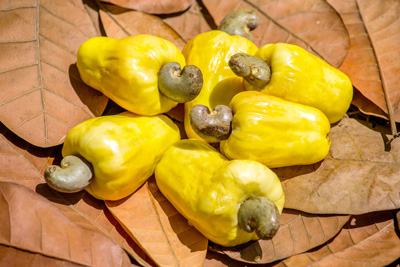 Our fruit and nut orchards include over 400 mature cashew trees flowering and blooming for several months during the spring and summer. An additional 900 cashew trees were planted in 20## in an effort to create a co-op opportunity for the local community. Commercializing the cashew production for the island has many long-term benefits, and we are proud to be at the forefront of this project.
In addition to our cashew orchards, we also have a large variety of citrus fruits growing, such as pink grapefruit, Persian and Key limes, Mango, pineapple, Noni, Carambola (also known as Star Fruit) and many more. Our collection of exotic species of tropical fruit trees is enhanced by our acres of different varieties of Heliconias, Gingers, Orchids, Hibiscus and other beautiful tropical flowers.
Contact us for a complete list of our local cashew products.