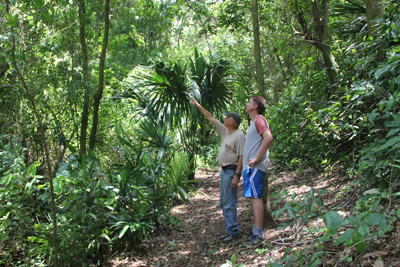 Blue Harbor Tropical Arboretum is proud to host Roatan's premier hiking trail location. With miles of trails maintained year-round for guests and locals to enjoy, Blue Harbor Tropical Arboretum provides a safe and stunning location to appreciate the island's true beauty. Take advantage of this incredible hiking path traversing hills and valleys along Roatan's north shore, providing sprawling ocean vistas and an incredible array of flora and fauna.
The hiking trail begins at the Blue Harbor Tropical Arboretum welcome area, where the Botanical Conservatory, restaurant (The Porch), restrooms, parking, iguana sanctuary and bird aviary, and the hydroponic farm are all located. Following a well-marked path, you will head uphill to immediately enjoy some of the best views of the area. Be sure to take your time and bring your camera to capture these moments!
The trail continues heading up and down the hillsides and venturing through shady jungle paths as well as open fields. Enjoy the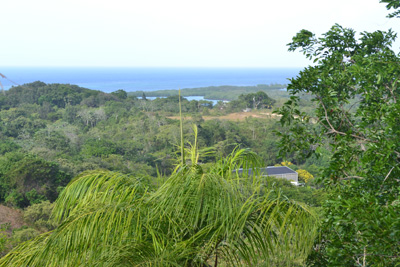 fresh scents of tropical fruits and flowers along the way, and be on the lookout for agouti (also called island rabbits) and a variety of tropical birds.
The hiking trail concludes back at the central welcome center, and after hiking the island's hills, you will definitely need something cool and refreshing. Be sure to stop by The Porch for a shady seat and a cold drink.
The hiking trails can be walked in sections if preferred, which enables the trails to be enjoyed by everyone.
Private tours are available for groups booked at least 24 hrs in advance. Tours are not available for walk-ins and the property is no open on a day to day basis for visitors.
Local, custom tours and group discounts are available, contact us to find out more.
Blue Harbor is only open for local tours each week on Friday, tour bookings need to be made at least 24 hrs in advance.
LOCAL SPECIAL: Blue Harbor Tropical Arboretum Local Tour
$25 per person
4 person minimum
Available Everyday
Includes
*Guided English speaking Blue Harbor Tropical Arboretum Tour and Hike.
Transport available at an additional cost.