BHP Hydroponic Lettuce & Herb Farm
"Hydroponic farming: growing plants by placing the roots in liquid nutrients rather than soil".
You might have heard about hydroponic farming at Disney's EPCOT or read about NASA planning to use hydroponic farming on man's journey to Mars.  If you thought it was science fiction, come see 70,000 heads of lettuce and herbs being grown everyday in WATER NOT SOIL! .  See the lettuce that tonight might be in your salad.  Come learn how hydroponic farming leads in water conservation, sustainability and, we believe, the future for safer, fresher, longer lasting produce in your kitchen.
We harvest every Monday, Wednesday, Friday at 5:30am but don't worry, we will show you how and why we were up "before the cock crowed"  to provide our customers, grocery stores and fine restaurants, Roatan's most popular brand —-Blue Harbor Plantation lettuce and herbs.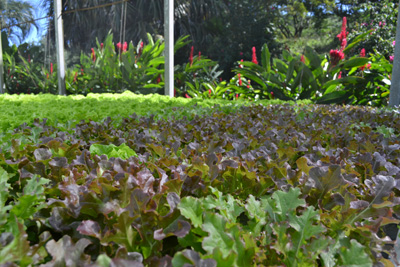 Guided Tours:
Adults: $8 each (BHP 001)
Children 6-12 years: $4 each (BHP 001c)
Due to Health Safety & Regulations, Self-Guided Tours and Children under 6 years are not allowed in Hydroponic Greenhouses.
15% Tax not included in above prices.